This morning I received an e-mail from the friend of Jahna Sebastian. For all of those who do not know who Jahna Sebastian is, she is the mother of Swizz Beatz 3rd child who is pretty much unknown and accounted for amidst all of the Mashonda, Swizz and Alicia Keys 'drama'. Swizz Beatz has THREE children and another on the way via the womb rental of Ms Keys. This will make Swizz soon to be a father of FOUR children to FOUR different women. Alicia Keys will be number 4.
It's about time this beautiful baby girl, Nicole is KNOWN to the world and acknowledged.
Like any good friend, the sender [who shall remain nameless] sent me the following e-mail setting the story straight on how Swizz met Jahna. The pregnancy, the paternity test, and ON-GOING court drama around supporting his child.
Questions we want to know that finally get answered:
Did Jahna KNOWINGLY get with a married man?

Was Alicia Keys present during the paternity test?

Does Swizz Beatz have a relationship with his daughter and financially support her?
I have been given FULL permission to post this e-mail for from both the sender and Jahna Sebastian. I haven't done the blog rounds and seen if the sender has sent this to other blogs, so as of now you're reading it here first, directly and exclusively on www.iamlondondiva.com I have no reason to claim an 'Exclusive' if it's from another source, I'll state it's from another source. This came directly to me today.
I've left it complete. No edits. Any spelling or grammatical errors have remained in place.
Read my first exclusive to find out:
From: [e-mail address removed]
Date: Thu, 22 Jul 2010 10:39:39 +0100
Subject: Swizz Beatz is not paying child support to his daughter in London and Alicia going along with it
I am close friend of Jahna Sebastian, the mother of Swizz Beatz's daughter. It's ridiculous how celebrities turn out to be the opposite to what they portray to the public.
Swizz Beatz might be busy getting ready for marriage and new baby with Alicia Keys, but he stopped paying child support to his only daughter with producer/singer Jahna Sebastian who resides in London. Paternity has been established via DNA test taken in August 2009 and Alicia Keys was present. Jahna has maintained independent parental responsibility for two years trying to reach Swizz Beatz personally but received no response. She then sought attorney's help and filed petition in July 2009. Swizz first time paid child support in September 2009 starting with $1500. Many people in UK and Russia already know about their two-year old daughter and it seems strange that he still would not publicly acknowledge her. Alicia seems to go along with it too. In May Swizz did not attend his daughter's birthday although he promised to through a Birthday Party.
Two days later he was in London visiting his fiancé who announced her pregnancy on 27th May when the same day he visited his daughter for three hours. During the past year Jahna Sebastian and Swizz Beatz have been in and out of court but Swizz did not provide required information. They are going back into the court again very soon as Swizz is not behaving himself as a responsible father.
24-year old Jahna Sebastian is a respected producer and engineer as well as a singer, who graduated from Russian Academy of Music at the age of only 20 and is known in the community as a very independent young woman.
More details:
Jahna Sebastian met Kasseem Dean, better known as Swizz Beatz, in August 2007 in London, UK, at the Ministry of Sound nightclub, after being introduced by his manager.
At this stage, Jahna Sebastian wasn't a fan who had been aware of his career.
During Swizz Beatz's subsequent performance at the venue, he invited Jahna Sebastian onto the stage to perform with him, which she did.
After this initial meeting, a short relationship followed during which Swizz Beatz failed to inform Jahna Sebastian that he was married and gave an impression that was at liberty to pursue such a course of action.
Upon his return to the US, Jahna Sebastian became aware that Swizz Beatz was married and broke off any interest in him, which wasn't hard as they had no contact at this time.
Jahna Sebastian found out she was pregnant with Swizz Beatz's child about six weeks later and there was no thought of having pregnancy terminated, on principle.
Jahna Sebastian was aware of the implications and possible effect on Swizz Beatz's marriage, so when six to seven weeks pregnant, she initially privately made him aware of her pregnancy via e-mail, with the intention of seeking advice on how to deal with the situation, but received no response.
When three months pregnant, Jahna Sebastian was detained in Yarl's Wood Detention Centre and subjected to Fast Track political asylum assessment protocol, an exercise eventually found to contain material error in law in the way her asylum application had been processed, a fact that led to her release, two months later.
Swizz Beatz's name had been referenced as the father of their then unborn child, during interviews with the UK Home Office, at the time when Jahna Sebastian was initially detained.
Jahna Sebastian attempted to make Swizz Beatz aware of her predicament of being pregnant with his child and being detained, by writing him a letter from Yarl's Wood Detention Centre outlining these facts, without response.
After her eventual release from detention centre and having given birth to their daughter Nicole, who was born in May 2008, Jahna Sebastian sent another letter to Swizz Beatz's address to inform him of her birth, once again without response.
In spite of ensuing extreme difficulties, not least financial, as she was legally restricted from seeking employment as she fought a legal battle to clear her name, while providing for and raising their daughter, Jahna Sebastian sought no financial or moral support from Swizz Beatz for two years.
In July 2009, Jahna Sebastian instructed a US – based lawyer to contact Swizz Beatz's legal representative with a view to establishing his parental responsibility.
Following this, Swizz Beatz promptly re-established direct communication, which was the first time he had done so since he had left the UK, after their first meeting in 2007.
In August 2009 Swizz Beatz came to the UK to establish paternity via a DNA test which proved that he was the father of his now almost two year old daughter. His girlfriend Alicia Keys was also present.
In the interim since giving birth, Jahna Sebastian had sold her previously owned apartment in the UK to buy a larger property, more appropriate for housing herself and her daughter, all without any assistance, financial or otherwise, from Swizz Beatz.
Swizz Beatz and his fiance; Alicia Keys have both subsequently visited Jahna Sebastian and her daughter in the UK.
In October 2009 Swizz Beatz was ordered to pay temporary child support, while given time to provide financial documents for a conclusive settlement figure and structure of child support, but due to adjournments for various reasons given, the case is still ongoing.
Swizz Beatz has not provided the required signature for his two-year old daughter's birth certificate, to date.
It is also worth noting that Jahna Sebastian has three separate strands of employment as a freelance music producer, and engineer and an actress in films and commercials.
[name removed at senders request]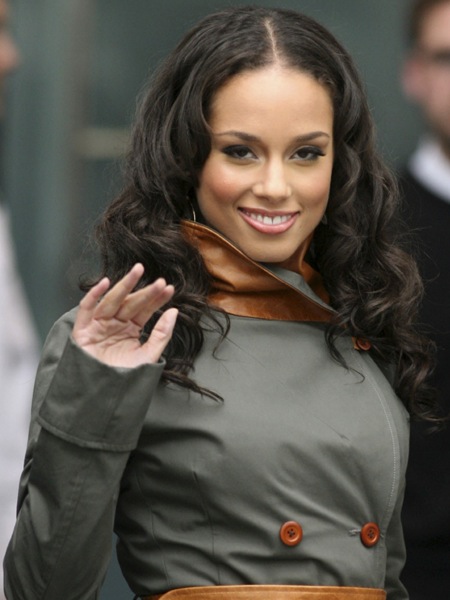 First of all, let me say thank you to Jahna's friend for e-mailing me this story and for allowing me to share it with my readers. I am all about the truth being heard and commend you for speaking up on behalf of your friend. Please continue to have her back through all of this.
Jahna I wish you the absolute best with raising Nicole, your career, and your legal battles in getting this matter settled once and for all.
I'm glad facts such as Jahna not knowing he was married and that she broke it off when she found out came to light. As well as not acknowledging his marriage, he didn't even choose to acknowledge Alicia. And Alicia is sticking with him?
I wonder what story he spun Alicia to make her stick around, engage her and get her pregnant?
So Alicia and Swizz have been together for 3 years? Was this the same dude she sung 'No One' about? See everyone talks about 'Karma' but this one is a good'un when you check the lyrics. Released in 2007, I'd say it's more about Swizz than her ex Krucial Keys considering she's been with him for 3 years and some months.
I just want you close
Where you can stay forever
You could be sure
That it will only get better
Really Alicia?? Get better how?? All this sh** right here…a comedic soap opera of a sham relationship.
You and me together
Through the days and nights
I don't worry 'cause
Everything's gonna be alright
This chick is beyond delusional. Who is her crack dealer?
People keep talking
They could say what they like
But all I know is
Everything's gonna be alright
It won't! And oh…you better believe we are talking and blogging till the cows come home. Your marriage will fail and he will cheat again. Why? Because all of the women, yourself included have and are giving him permission to cheat, over and over again. And like you told us "what goes around, comes around. What goes up, must come down." The only thing getting plenty of up and down is Swizz's erect penis.
No one, no one, no one
Can get in the way of what I feel for you
Yes you proved that with Mashonda and Jahna. No one is getting in the way of you and your baby daddy with the multiple women and children. Keep on singing that mess trick.
When the rain is pouring down
And my heart is hurting
You will always be around
This I know for certain
Always be around? Knows this for certain? Heffer he already stepped out on your arse once already….THAT WE KNOW ABOUT!
I know some people search the world
To find something like what we have
I know people will try
Try to divide something so real
So 'til the end of time
I'm telling you there is
Alright, let's stop the FUCKERY RIGHT NOW…Ain't no one searching for a man with 4 kids by 4 women, who's cheated on 'em all, searching for that sh**. The only thing most of us can admit to wanting what you have is your bank account. That's about it.
I'm guessing I was contacted by Jahna's friend after my usual LD type rant this week which you can check out here.
Also peep the full VIBE interview where Swizz Beatz ex-wife speaks [yet again]